Domestic Training Programs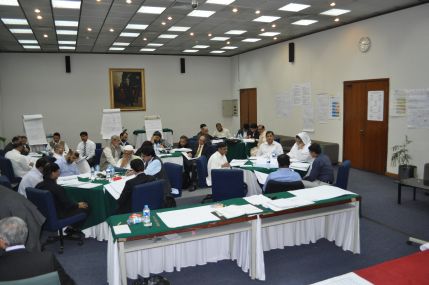 NIBAF designs, develops and deliver training programs mainly to State Bank of Pakistan, its subsidiaries and the financial industry of Pakistan. The Institute conducts in-house as well as outsourced training programs besides conducting seminars and conference on key contemporary issues in Central Banking, Commercial Banking, Islamic Banking and other areas of development finance. Trainers are engaged from financial industry, academia, Government and international agencies etc. with the objective of benefiting from the capabilities of the best possible resource persons. NIBAF makes use of modern audiovisual techniques and equipment to enhance training experience of its trainees.
International Training Programs
NIBAF regularly features training courses for developing countries on central and commercial banking functions. The objective of this cooperation is to transfer knowledge and promote staff potential at the partner central and commercial banks. Latest training methodology is implemented in the courses; taking full advantage of the group potential and the facilities at NIBAF. Topics are generally introduced in a classroom lecture. Group work, case studies, exercises and discussions allow enhancing understanding of various topics. Cultural events/receptions complement and add more value to these programs.
NIBAF endeavors to become the designated institute of choice for capacity building of other commercial and central banks in the region. For this purpose, NIBAF is in process to strengthen & build upon an already robust base where in it has successfully conducted such courses for Afghani commercial banks and DA Afghanistan Bank and a few other central banks. NIBAF is striving to expand its scope to other regional central banks in close geographical vicinity.